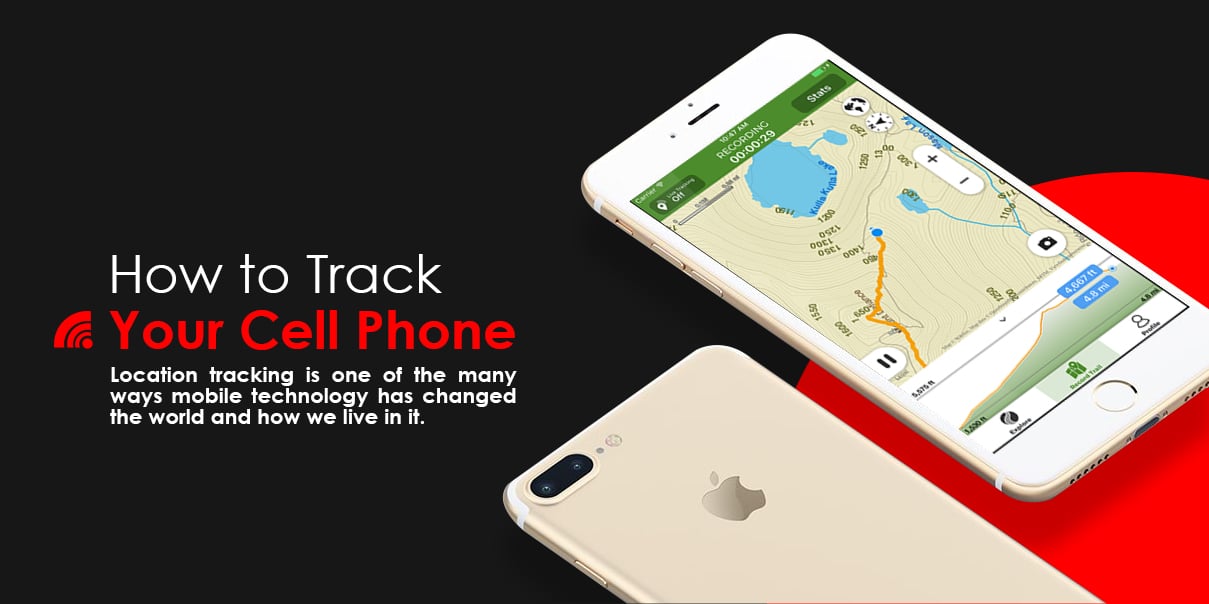 Updated On July 15, 2021
Location tracking is one of the many ways mobile technology has changed the world and how we live in it. Maps are no longer confined to vehicle GPS systems, and new location services open up a whole new realm of possibilities for businesses and individuals. For example, using location data, mobile phone ads and search results can be optimized so viewers only see options close by. But it's not just advertisers who can take advantage of cell phone GPS and the location services of mobile devices.
One of the best uses of location services is tracking a cell phone if it – or the person using it – gets lost. Parents, guardians, caregivers and supervisors can also take advantage of monitoring services to make sure every member of the family or crew is where they are supposed to be. Overall, it's an excellent tool to help keep everyone safe, connected and accessible.
Let's take a look at how cell phone tracking works, the ways in which it is beneficial and what cell phone tracking apps are out there for you to check out.
How Does Cell Phone Tracking Work?
Cell tower triangulation has been a traditional way to determine a cell phone's location. Today, most cell phone tracking apps work by tapping into the Global Positioning System (GPS), which is a network of satellites maintained by the U.S. Department of Defense. The process of tracking looks something like this:
The satellites gather location information. As the array of twenty-four satellites circles Earth, relevant location data is collected from different angles and distances. The satellites then send this collection of data to GPS receivers, which are a typical component of the modern cell phone.
GPS receivers compile the data. Because all of the satellites work in tandem, the GPS receiver in phones and other devices can calculate a highly accurate estimate of the user's position on the globe. A higher number of visible and connected satellites from the receiver's location means a more precise calculation.
The device transmits the calculation to remote software or apps. For location data to be easy for users to interpret, the location estimates need to be forwarded to a server, which can then display what you need to know in an app like Google Maps. Phones usually transmit their GPS calculations over data connections through wireless networks, meaning that as long as your cell phone is turned on and within signal range, you should be able to track your phone readily at any time.
From those apps, you can use your location data for a variety of purposes, and it's not only about GPS. Tracking your cell phone, or a phone owned by a family member or team member, can be incredibly useful in different circumstances. With that in mind, let's take a look at some of the benefits you can expect from mobile phone location tracking services.
What Are the Benefits of a Mobile Phone Tracking System?
There is a nearly endless array of circumstances you can find yourself in that may lead to wondering how you can track a cell phone. People whom you depend on or who depend on you are often on the move, entering new environments and juggling busy schedules. Mobile phone trackers are useful in collaborations and meet-ups, but they can also be a reassuring tool for intelligence-gathering in times of crisis.
Here are some examples of the benefits you can expect when you have a way to track a cell phone's location:
Assistance in finding your misplaced phone. There is an element of comfort in knowing that you could find a lost device should it go missing. The assurance that the phone was last located at home, even if you aren't sure which room you left it in, can mean serious peace of mind.
A higher probability of recovering a stolen device. Similarly, should someone take your cell phone, you can increase your chances of finding it or catching those involved. It's not always a guarantee that the authorities can recover a stolen phone, depending on the craftiness of the thief, but being able to see the phone's last known location can certainly give you an advantage in case of an investigation.
Collaborating or checking in with others. Whether it's in your family or your group of friends, there are times in our social lives when it's important to know where someone is currently located. It may not always be ideal to text or call someone to ask for their whereabouts, so having an app on hand that connects you to your loved ones can be an invaluable asset, even if all you use it for is finding each other at a crowded event.
Help during emergencies. It's not only at fun events where smartphone tracking is useful. Any number of crises could leave you unsure of your loved one's location, so it may be a good idea to connect over a cell phone tracking app sooner rather than later. Even if something happens before you have the chance to set up a personal system, personnel at the police station or fire department may be able to use nearby cell tower information to find a lost person.
Peace of mind regarding child and teen whereabouts. Parents can find courage at a time when there seems to be new threats to the safety of their children continually. Many mobile tracking apps are specifically designed for parents to receive updates and make sure that their kids are where they are supposed to be. Similarly, with all sorts of shady activity affecting teenagers, cell phone tracking can be a way to keep tabs on older children when they're out and about on their own or with friends.
Accountability for employees. Work phones provide many advantages for employees, but they can also be a tool for employers to track the efficient use of their workers' time and resources. From location pinpointing and sales route optimization to speed limit monitoring, there is a range of capabilities offered to managers through cell phone tracking apps designed for business purposes.
While it's good to know the benefits of tracking software, you need to find the right application for the specific devices you have and the features you require. Some solutions come from the smartphone companies themselves, but there is also a slew of third-party app developers eager to share innovative uses for tech that focus on cell phone location tracking.
What Is the Best Way to Track Your Phone?
For the most part, the top smartphone manufacturers have included cell phone tracking capabilities right in their standard operating systems. Apple, Google and Microsoft are all examples of companies that have ways for you to track your phone through their servers using features, included in iOS, Android and Windows:
Find My iPhone. This feature is available on Apple devices or accessible through the iCloud website. If you have multiple devices synced through iCloud, it's relatively simple to track a missing cell phone. Find My iPhone displays your device's last known location in a map view, giving you the chance to track it down even if the phone has run out of battery or lost signal. For finding the phones of loved ones, there is a "Find My Friends" application available for iPhone users who have enabled location sharing.
Android Device Manager. If your Android device is hooked up with a Google account, then you'll be able to track its location using the Android Device Manager from a web browser on any computer. Google Maps has recently released a location sharing service as well, which allows your friends and family members to see your location for up to 72 hours even if they don't have a Google account.
Find My Phone for Windows. Similar to the other providers we have mentioned, as long as your Microsoft account is attached to your Windows phone, you can use a phone tracking feature on the Windows Phone website. You'll find the map once you log in to your account and click on "Find My Phone" from the menu. Microsoft has also developed software to see your friends who have Windows phones called Squad Watch.
Since these programs are manufacturer-created, they may offer perks in the form of better compatibility and freedom from bugs when used correctly. On the other hand, they may also have certain restrictions and fail to feature some of the capabilities offered by third-party app developers, so it's hard to say whether they are truly the best solution on the market.
For example, some cell phone technologies are optimized for one platform over another, but there are many apps out there that focus on enabling shared locations between users of all sorts of smartphones. There are also apps that track many more activities than just location changes.
Let's take a look at some of these top third-party contenders.
The Best Cell Phone Tracking Apps for iPhone and Android
Among the top applications for tracking a cell phone, you can find both free and paid options and a variety of audience or feature focal points. Here are a few examples of common cell phone tracking apps, many of which can monitor more than just location activity:
Life360. For families with multiple drivers, Life360 extends a hand in coordinating plans and synchronizing location awareness. If you're worried about everyone making it to their destination, you can set up alerts for peace of mind. One of the key features of this software is protecting drivers on the road by providing crash detection, emergency response services and regular driving reports. Compatible with both iOS and Android, the product's core services are free of cost, but the company also offers a premium subscription of $5.00 per month.
Familo. This app provides real-time location information that is shared between select family members and loved ones. There is a chat function for communicating about ETAs and schedules and your family also has access to a "Panic" button in case of an emergency that alerts everyone in the group immediately. You can customize your data's visibility and Familo ensures your personal information is protected from third-parties. Initially, the app is free to use, but there are more features available to those who purchase a monthly subscription.
mSpy. Providing all-inclusive parental control and insights into your child's digital activity, mSpy allows you to monitor call and text conversations, photo content, GPS locations and other apps on your child's phone. Full advantage of some capabilities may depend on the type of phone your child uses. Androids, for example, will have more flexibility than iPhones, because some of the more complex monitoring features are only possible on the Apple device if it is jailbroken. The app costs $39.99 and is available across multiple platforms.
FlexiSpy. Similar to mSpy, this app allows for intensive monitoring, focusing its services on companies who issue smartphones for employees and parental controls alike. This application works on computers and phones, recording email, social media and text conversations. It is also a tool to monitor whether employees stay on track and only use their company-issued phones for business purposes. Also potentially requiring a jailbroken iOS device for some extended features, the service costs $49.97.
TSheets. Developed by Quickbooks, TSheets is an app that tracks employee locations and incorporates time clock capabilities. It keeps track of where employees check in at the beginning of their shift and the program boasts a friendly user interface and deep reporting features. TSheets offers a free demo for 14 days, after which the company advertises a variety of plans. For single-person organizations, the price remains free, but larger businesses can add more users starting at $4.00 per user per month.
Spyzie. With no iPhone jailbreaking required, Spyzie can be used to track any activity on a mobile device, monitor who your kids are talking to and see where they are located through cloud technology. You can even block or set time limits for the use of particular apps and software. This company offers a variety of packages that come in different sizes and prices, the most popular of which sits right at $39.99 per month.
MobiStealth. This ultimate computer and mobile device monitoring software for parents and business owners costs $79.00. Keep track of apps, web browsing activity, location, photos, calls (only on Android) and text conversations all in one place. Employers can see what kind of pit stops are causing employee delays. MobiStealth technology allows you to become aware of potential threats, and you can do so without the owner of the phone knowing about it.
Whatever method you choose, we hope that you can benefit from the capabilities that phone tracking technology offers. While managing other people's phones and sharing locations is important, it's also good to keep track of your own phone for many reasons.
How to Locate a Lost or Stolen Phone
Looking to locate a lost phone, believing you may have left it at work? Are you concerned someone stole your phone and now you want to track it down?
For how to locate a lost or stolen phone:
Take precautions ahead of time to prevent someone from breaking into your phone: This entails using both passcode and fingerprint authentication and possibly foregoing facial recognition. Facial recognition can be hacked if someone has a picture of you to use.
Make sure it's truly lost: Rather than panic, have someone call your smartphone or if available, use the landline in your home. In either scenario, listen for its ring after dialing your number. There's a chance you may have left it in a coat pocket, out in the garage or in your work bag, or it slipped between the couch cushions when you last watched TV.
Start to track it down: As described above, you have a few tools for doing this, like Find My Phone or Google's Find My Device. Certain phones may have additional features for this purpose, like Samsung's Find My Mobile, which further allows you to check if someone has replaced your SIM card, and SmartThings Find, which crowdsources via Bluetooth signals to identify the phone's location.
What if you find your phone has been stolen?: You find that a third party usurped your phone. Now what? As the first step, don't attempt to recover the phone yourself. Rather, at this stage, reach out to law enforcement for assistance with the address you've identified. If law enforcement is unable to retrieve your phone, get in contact with your carrier to report the phone as stolen – this adds your device to a national database of blacklisted ESN and IMEI numbers.
Sell Your Phone for Cash
For another reason to track your phone, when it's time to upgrade, you'll know where your old model is – so you can sell it for cash! There's no better way to make money off your old hardware, which is where we at The Whiz Cells can help out. Check out our selection of devices to see if we can take your old phone off your hands. If so, we guarantee that we can give you the best return at our Stupid Fast Payment rates!