If you've ever tried to figure out how to sell a used phone online before and struggled with the process, you're in luck. The online selling process for The Whiz Cells couldn't be easier. You'll be able to get your phone to us fast and get paid for it fast too. Here are the simple steps to the process.
How to Sell My Cell Phone Online With The Whiz Cells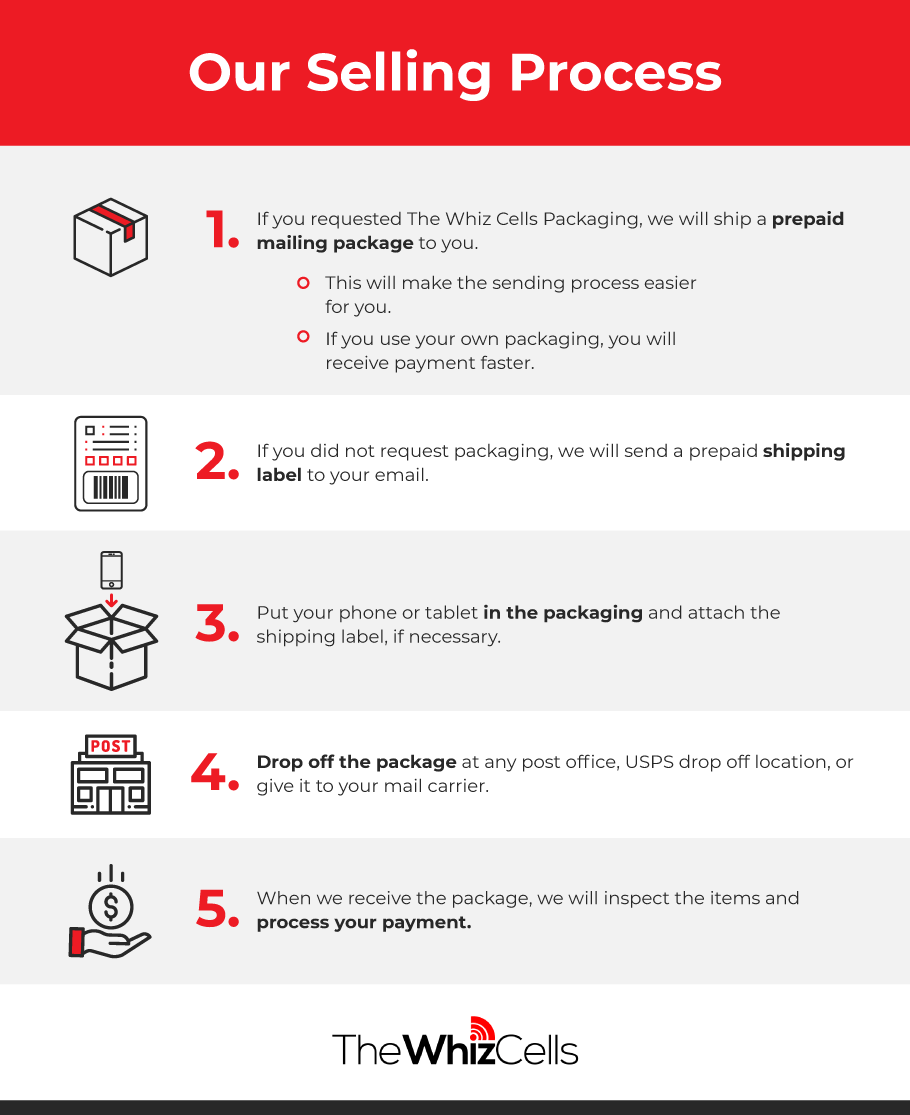 It only takes a few moments to learn how to sell your phone with The Whiz Cells. As long as you take care of these steps, you'll be able to sell almost any device. While you're getting ready to ship out your phone, remember to:
Erase all device passcodes

Charge the device

Turn off the power

Remove your service provider account

Make sure the phone is paid off
It's essential that you remember to take the iPhone off your service provider account and pay it off before you sell it, especially if you use T-Mobile. This is because forgetting about these factors can ruin your phone's ESN. Although we do accept phones with bad ESNs, this can cut the value of the device in half — so we recommend taking care of them quickly.
Once you go online to The Whiz Cells and follow the prompts to register the device you are going to sell and provide us with all the information we need to generate a quote and prepare for the arrival of your device, one of two things will happen:
If you requested The Whiz Cells Packaging, we'll send you a prepaid mailing package for you to put your phone in. While this will make sending your phone to us even easier, you'll receive payment faster if you use your own packaging.
If you didn't request our packaging, we'll email a prepaid shipping label to you as quickly as possible so you can send us your phone right away. If you don't see the email from us in your inbox, please check your spam folder.
Put your phone or tablet in the provided package — or if you are self-packaging, in your own package with our prepaid shipping label affixed to it.
Drop the packaged phone off at the Post Office or an authorized USPS drop location, or give it to your mail carrier.

Your quote will last for 20 days, so make sure to send in the device as soon as possible!

You can have the Post Office or USPS representative scan the package while you are there and give you a receipt, but you don't need to — you're free to just drop it off and go.
Your part of the process is now complete. Right when we get the package, we'll open it up and inspect your device to make sure it matches the specifications you indicated when you submitted your sell request. As soon as we've verified your device, we'll process your payment. Payments are typically processed the day after we receive and verify your item. If you requested payment via PayPal or Venmo, your payment will appear in your account immediately upon processing. If you requested a check, you can expect a wait of two to five business days to receive your check in the mail.
Our Selling Process for iPhones
iPhones have many different features and functions, meaning there will be an extra step you need to follow to complete The Whiz Cells selling process with an iOS device. You'll still send your device to us per the above instructions, but first, it's important that you take care of a few loose ends.
When you prepare to sell an iPhone, your first priority will be removing your iCloud account. We can only sell the phone you send to us if it's been unlocked from iCloud, so make sure to remember this step before shipping it out. 
If you're unsure how to remove an iCloud lock, it's a simple process you can complete in minutes. All you need to do is log into your iCloud account with your Apple ID. Once you're inside the account, choose the "Find My iPhone" option, select your device and erase it. After this, you should be able to select, "Remove From Account," and your device will be ready to go as long as you've completed the other steps as well.
Sell Your Phone Easily Anytime With The Whiz Cells
And that's all there is to it. We pride ourselves on our fast, easy sales process and Stupid Fast Payments. If you have any further questions about how it works, feel free to check out our FAQ or email us at Questions@TheWhizCells.com.