Apple and Google have emerged as two of the largest tech giants on a global scale. Over the past decade, the two companies have mutually cornered the ever-growing smartphone market, squeezing out competitors in a neck-and-neck race to the top. As each company rolls out successive models and newer features, consumers are constantly asking one question — who makes the better smartphone, Apple or Google?
Apple vs. Google Business Models for Phones and Tablets
At the heart of the iOS vs. Android debate is the competition between Apple and Google for dominance in the smartphone market. To understand the strengths that each company has brought to mobile technology, let's examine the pros and cons of Apple and how they compare and contrast to those of Google.
Apple's Business Model
Apple has been one of the world's two leaders in the mobile phone industry since the company's rollout of the iPhone in 2007. The innovation followed a long line of accomplishments from the company, which was founded by Steve Jobs and Steve Wozniak in 1976 at the dawn of the home computing era.
Since the early 2000s, Apple has branded itself as the more individualistic alternative to the monopolistic practices of chief-rival Microsoft. In doing so, Apple courted legions of new users among the millennial generation, who instantly embraced the iPhone and followed the product's development through ensuing grades and versions.
For millions of people, the iPhone has become an essential part of everyday life, as it allows friends and colleagues to communicate via text, voice and video apps on iOS-exclusive apps. Apple's triumph with the iPhone followed the company's conquest of the Walkman market, which the computing giant wrested from Sony a decade before.
As of 2019, iPhones account for three-fourths of Apple's earnings. This has been largely due to the decline of computers, which have fallen inversely to the rise of smartphones. For younger people, smartphones make it possible to connect, surf and stream while being active in the great outdoors.
If Apple could be criticized for any part of its current business model, it would be the company's near-exclusive reliance on the smartphone market. The company has failed to launch a newer technology of similar magnitude since the iPhone. If some disruptive form of technology comes and knocks out the smartphone market, Apple could find itself slipping or scurrying to catch up in the near or distant future.
Google's Business Model
Though it started as a search engine, Google has emerged over the past decade as a competing entity on the home-computing front. Whereas Apple and Microsoft sell devices and operating systems at competitive prices, Google offers its programs and features for free.
Google's genius has been to zero in on product categories that many consumers believe should now be free, such as messaging apps, interactive maps, mp3 players, video players and conferencing programs. Google makes money from these giveaways by collecting info on its users and selling that information to advertisers at high prices, many of whom find such info invaluable for targeting purposes. Consequently, users enjoy many free programs through Google at the expense of their online privacy.
Google has also snapped up other online giants such as YouTube. Today, you can log in to Google and automatically be signed in to your account on the video platform. Through this partnership, Google has easily converted both sites into apps for Android smartphones.
With its online My Drive apps like Docs, Calendar, Sheets and Slides, Google has also copied the look and feel of programs like Word, Excel and PowerPoint, giving users a free alternative to the Microsoft Office suite, which many people view as an over-priced set of programs. Google's My Drive apps can be used on PCs, laptops and smartphones alike, allowing users to start documents on one device and continue editing on another.
By monetizing a whole range of freebies, Google has flipped the script on the 21st-century business model and found ways to grow and grow, irrespective of bearish markets and the bumpy rides of Apple and Microsoft.
Apple vs. Google Phone Design

The iPhone software design philosophy has been central to Apple's success with the product. Likewise, the Android software design philosophy has given Google a leg up in the smartphone market. This commitment to design principles is most evident in the two company's most recent models:
Pixel 3
On October 9, 2018, Google rolled out the latest model in its Pixel Product line of Android smartphones, the Pixel 3. The phone is manufactured in three colors — black, pink and white. The Pixel 3 comes pre-installed with Android 9 Pie but will also be upgradable to Android 10. The Pixel 3 was released concurrently with the higher-priced 3 XL model.
The Pixel 3 contains 4GB of RAM and 64GB or 128GB of storage. The phone can be charged through an A/C outlet or wirelessly at 10W. For sound, the Pixel 3 is equipped with frontal stereo speakers. For peripheral hookup, the Pixel 3 features a USB-C port. The phone is equipped with Active Edge technology, which allows you to bring up Google Assistant by squeezing the phone on its sides.
The Pixel 3 is equipped with a 12.2 megapixel back camera and a wide-angle screen camera. On the downside, the Pixel 3 does not have a headphone jack. As of late 2019, Google is gearing to replace the Pixel 3 with the upcoming Pixel 4 on October 24, 2019.
The iPhone 11
The iPhone 11 was launched by Apple on September 10, 2019. It replaces the iPhone XR as the company's flagship smartphone. The iPhone 11 was released simultaneously with the higher-priced iPhone 11 Pro model. The iPhone 11 starts at $699 in the U.S. The phone is sold with iOS 13 pre-installed. The 11 is manufactured in six colors — purple, yellow, green, black, white and red – twice the number of color options compared to what the Pixel 4 will offer (black, white, and a limited salmon-orange color).
The iPhone 11 is available with 64GB, 128GB or 256GB of storage. The phone has wireless charging capability and can regain up to 50% charge in just half an hour with a Lightning connector and an 18W adapter. The phone is powered with the new A13 Bionic chip.
Apple's biggest change with the iPhone 11 comes in the cameras. The back dual-camera system now features Ultra Wide and Night mode for better low-light photos. Both the front and the back cameras are 12 megapixels.
iOS vs. Android
Apple and Google have been in a race to deliver the best technology and features with successive generations of smartphone models. Prospective buyers generally want to know how iPhone and Android technologies measure up in the following areas:
1. Performance
Apple's iOS smartphones have long had the advantage in terms of speed, though Android has become more competitive with its Pixel 3 XL, OnePlus 6T and Snapdragon 855 models. Current Android devices are known to offer optimal RAM capacity that keeps loaded apps near the surface and instantly accessible at the tap of the touchscreen.
2. Memory
Apple iOS users have the option to purchase flash storage at various tiers. This way, data can be stored on expansion disks instead of internally. Trouble is, some users either underestimate the capacity of a given tier or misunderstand the formatting. Android supports both internal and flash memory, giving users more of an option.
3. Apps

The apps that come preinstalled on Apple iOS devices are acclaimed for their clarity, quick-loading and ease of use. Examples include the iMovie app and iWork suite. The latter is the company's counterpart to Google's well-known office applications like Docs and Sheets, which are preloaded on Androids.
In terms of app safety, Apple has the better reputation due to Google's lower bar for app-makers, as evidenced by certain malware-laden apps on the Google app store.
4. Interface
Both iOS and Android devices offer convenient layouts that each display a wall of apps for scrolling and activating at your own leisure. The main difference is that iOS devices lack "back" control, though Google is rumored to be phasing this out as well on some of its upcoming Androids.
5. Light and Battery Efficiency
Smartphones conserve battery energy when there is less white light to emit from the screen. To that end, Android has been offering night-mode options that allow you to view apps in dimmer tones that are less shocking when activated at night or in dark rooms. Apple lagged in this area until the June 2019 release of its iOS 13.
6. Support
Apple has been a manufacturer of consumer electronics and computing devices for more than 40 years with Apple Stores located across the U.S. As such, Apple has a long-established system of customer support, giving iOS users the option to call the company's 1-800 number or simply visit a storefront with any questions. Google, with its origins in Internet services, has nowhere near the infrastructure for customer support. Consequently, tech support is harder to access for Android users.
7. Voice Assistance
Apple took the lead in this department with its Siri app, which was first rolled out in 2011. Siri recognizes a range of user voice commands and functions as an AI assistant for iOS smartphones. Siri also keeps user info private, unlike Google Assistant, which has been criticized for collecting info for Google's own use.
8. Sizes and Hardware Options
Though Apple has manufactured numerous iOS devices over the past decade, the company has recently narrowed its line to three sizes and several models.
With Androids, a wider range of options exists due to the volume of manufacturers that make phones using Google's operating system. As such, you can find Androids that range from 3 to 7 inches. Androids can also be found for as little as $40 and as much as $1,400. If you want to expand the storage space or make other hardware adjustments, Androids are generally more accommodating.
9. Connections
Apple devices connect more readily to one another. If you open a program on your desktop, you can easily continue the task on your mobile iOS device. Moreover, the Apple Watch is the first smartwatch to connect with the brand's iPhones, iPads and Mac computers. On an Android, you can pull up your Google Drive and Calendar apps the same as you would on a PC, provided you sign in to your Google account on both devices.
10. Reciprocity
Android apps can be used on iOS devices, but the reverse is not the case. Apple has long ensured that its popular iOS apps would only be available on the company's own devices. Consequently, many iPhone and iPad users have chosen these devices for the ability to interact via iMessage and iWork with friends and colleagues.
App Store vs. Google Play
Apple and Google compete to outdo one another in the realm of mobile apps. Both companies try to offer all the features that smartphone users could possibly want, often with mixed results in the following categories:
1. Apple Mail vs. Gmail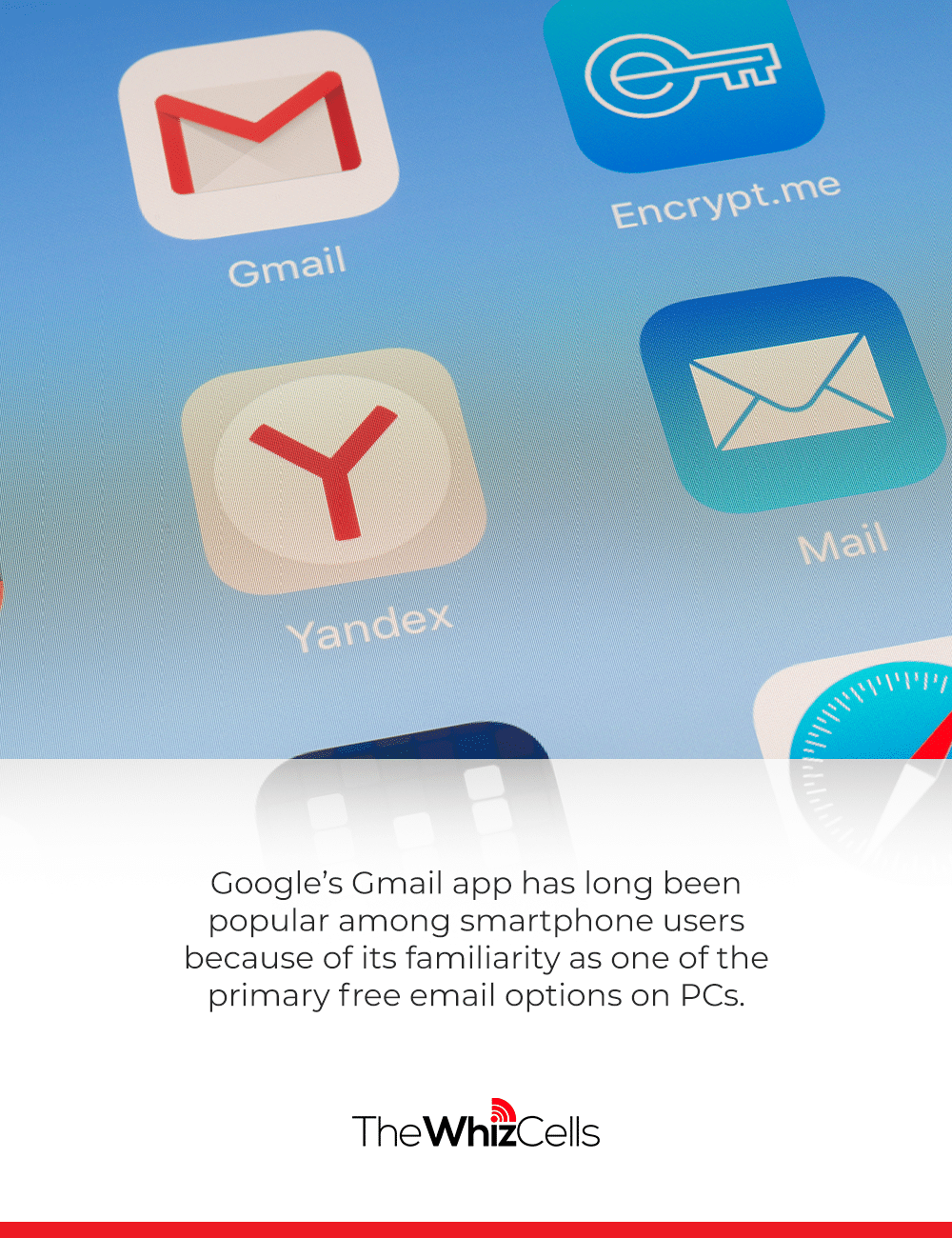 Google's Gmail app has long been popular among smartphone users because of its familiarity as one of the primary free email options on PCs. Gmail is well-liked because the features and folders are neatly organized and the service can intuitively distinguish important personal contacts from spam.
Apple mail is less familiar to non-iOS users due to its incompatibility on other devices. While the company has made efforts to improve the app with features such as VIP lists, Apple mail has been the subject of various third-party add-ons, which indicates that many users are still dissatisfied with the app's basic functions.
2. Apple Maps vs. Google Maps
Apple and Google both offer map apps that load quickly and clearly on their respective smartphone devices. However, Google has been in the mapping business a lot longer than Apple, having rolled out its Google Earth program back in the late 2000s. As such, Google has had years to scan all corners of the Earth to gather panoramic and aerial perspectives of every road, intersection, highway, park and building facade.
All of these features are worked into Google Maps, which allows you to instantly pull up cycling routes and public transit directions to and from a given destination. You can even download these maps onto your Android before roaming into territories that lack WiFi access.
3. Apple Music vs. YouTube Music
The Apple Music app has long been one of the company's most popular apps due to its many features. With Apple Music, you can manage playlists, view song lyrics, play online radio streams and navigate between online and offline music files. Moreover, Apple Music works with both iPhones and Androids.
Google Play Music, by contrast, has slowly been edged out by YouTube Music, the creation of Google's partnered entity that allows you to listen to songs and navigate between online and offline music files. Unlike Apple Music, YouTube Music also allows you to view music videos on your Android smartphone. Otherwise, Apple Music makes it easier to navigate your music library; the company has long excelled in this area of user convenience.
4. Apple Safari vs. Google Chrome
Despite the familiarity of Google Chrome to most desktop users, Apple Safari has a simpler and more organized layout that is generally touted as the more convenient browser on smartphone screens. Apple has also been more diligent about protecting user privacy than Google. Therefore, Safari is the safer bet if you are concerned about the possibility of your online activity being sensed or tracked by third-party advertisers or doxxers.
In addition to these two browser apps, both the App Store and Google Play Store allow users to download a number of other browsers such as Firefox or the DuckDuckGo privacy browser, which focuses heavily on protecting user data.
5. iOS Messages and FaceTime vs. Android Messages and Duo
Apple's iOS Messages app has long won out over its Android counterpart due to the former's encryption and visual features. However, the disparity has narrowed with the rollouts of Apple FaceTime and Google Duo, which both offer clear and instant video messaging and online group meetings.
Cash in Your Old Smartphone at Whiz Cells
Each passing year, smartphone makers like Apple and Google roll out new models, quickly rendering earlier models depreciated or even obsolete. It is crucial to make what you can of your old phone before it loses all value. Whether you fall into the Apple or Google camp, The Whiz Cells is here to help you cash in your old phone for your next upgrade or just for some extra money in your pocket. Contact us today to learn more about how our service can turn your old phone around for a new one.
Sell Your Smartphone or Tablet