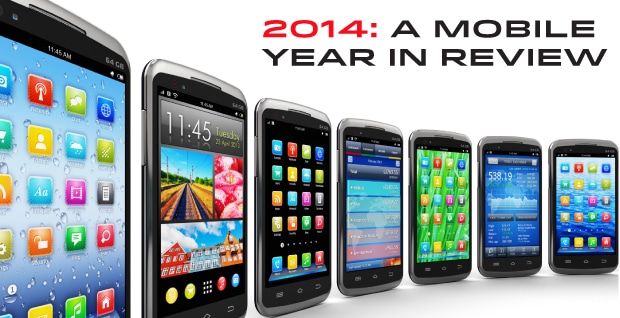 In the realm of mobile technology, 2014 was a year of innovation and welcome upgrades for iOS and Android users. From smartphones with improved features and capabilities, to apps that make it easier to shop, search, create and communicate, the last 12 months witnessed great strides in smartphone technology. The latest cell phone releases are always welcomed by eager consumers and critics alike.
The following is a month-by-month breakdown of the year's most notable releases, upgrades and news on the mobile front.
January
• Adobe updated its Photoshop Express app for Androids. As a distillation of the PC version, the app allows you to crop, transform, saturate and remove red eye from images, along with a host of other functions. The first 50 uses are free, after which the app costs $5.99 per month. The app is designed for editing smartphone pics for instant tweeting and messaging from remote locations.
• SwiftKey Note with Evernote integration was released for iOS users. Designed as a human-thinking tool for typing, the keyboard app helps you write faster while on the move. Functions include auto-correction and a word-suggestion feature that customizes to your personal writing style. The more you use SwiftKey, the better it becomes at helping you compose text on your iPhone or iPad.
February
• Disney unveiled its Movies Anywhere app for iOS users. The app allows you to view Disney movies that you already own on your iPad or iPhone. Movies Anywhere also lets you preview titles from the studio's vast catalog of romantic, comedic and animated features. For purchases, the app connects with iTunes for mobile, PC and laptop viewing. The app is fast, offers clear quality and even features a parental control.
• Opera released its data-compression Max app for users of Android 4.0 Ice Cream Sandwich and beyond. With Opera Max, you can compress music, photo, text and video files across various applications. The app speeds up the buffering and loading of large files for viewing on a smartphone. Bandwidth is saved with Max, which can add 50 percent more capacity to a 1GB monthly plan.
• Taiwanese smartphone manufacturer HTC Corp. released the HTC One (M8). Encased in a metal unibody, the unit features a five-inch touchpoint screen and features a dual camera with 1080p HD video recording capabilities. Hailed as one of the best new cell phones of 2014, the HTC One (M8) runs on the Windows Phone 8.1 and Android 4.4.2 (KitKat) operating systems, supports 128GB of memory, carries up to 32GB of space and boasts a 2.3 GHz CPU.
• The rumr messaging app was released to iOS and Android users. As the brainchild of developer James Jerlecki, rumr lets users chat anonymously in mobile environments. Participants are identified only by nameless, colored bubbles, which change colors each time someone joins the conversation. The idea behind rumr is that people are more candid when their identities are protected. With rumr, users are able to open up on touchy subjects without fear of judgment.
• Samsung released the Galaxy S5 Android smartphone in 150 countries. The unit runs on the 4.4 KitKat operating system and boasts a 5.1-inch HD screen, 16-megapixel camera and 2.5 GHz processor. Features include a heart-rate sensor and fitness tracking via the S Health app. Sprint, AT&T, T-Mobile and Verizon took pre-orders of the Galaxy – which is being called one of the best new phones of 2014 – in advance of its official rollout; the last of those carriers even held a "buy one, get one free" promotion.
• Google unveiled its Chrome Remote Desktop app for Android users. The app allows users to access other computers from remote settings through the Chrome browser. When you're on the move and you suddenly remember an important file or folder on your home computer, you can pull it up on your smartphone via Chrome Remote Desktop, which has the ability to display multiple monitors at once.
• Motorola launched its budget smartphone, the Moto E, in the U.S., U.K. and India. The unit runs on Android 4.4 KitKat and boasts a 4.3-inch screen, 1.2 GHz CPU, 4GB of storage, and 1GB of RAM. Other features of the inexpensive device include all-day battery life, a waterproof body, changeable back covers, and constantly updated Google software.
• The Google Now Parking Card app was released for Android smartphones. Using sensors that detect the locations where you've left your vehicle, the app will direct you back, hours later, to that hard-to-remember parking spot. No more Seinfeld-like scenarios of coming out of a game, concert or afternoon at the shopping mall, only to spend hours searching high and low for your vehicle.
• Vhoto, an app that captures photos from mobile videos, was released to iOS users. The brainchild of Seattle-based tech developer Noah Heller, the app takes all the work out of finding the right images from video files. With the app installed on your iPhone or iPad, you just tap the record prompt and Vhoto will freeze those perfect, Facebook- and Instagram-worthy moments from each block of video.
• The PetMatch app was released to iOS users seeking identical replacements for lost or departed cats and dogs. With a photo of your old pet loaded onto your smartphone, the app will find a lookalike from its nationwide database. You can also browse the PetMatch picture gallery and search by color, breed or size for a variety of adoption choices, along with the location and contact info of your favorite animal.
• MakerBot launched its PrintShop iOS app. Conceived to give newbies a leg-up in 3D design, the app contains a set of tools for the simple creation of three-dimensional imagery. PrintShop will help you create unique fonts for signs and letters; the app also has functions for ring and bracelet design. You can even choose models from the app's preexisting library of 3D images.
• Motorola launched three smartphones exclusively for Verizon Wireless: the Droid Mini, Droid Ultra and Droid Maxx. Each Droid runs on Motorola's X8 chipset and comes equipped with a 10-megapixel camera and 720p display. The Mini and Ultra boast 16GB of storage and run on 2000mAh and 2130mAh batteries, respectively, while the Maxx – possibly one of the best new cell phones of 2014 – uses a 3500mAh battery and contains 32GB of space.
• The LinkedIn Connected app was launched for iOS users of the professional contacts network. With Connected, LinkedIn members are informed when someone in their network has a birthday, changes a job, or reaches a career milestone. The app's intention is to help you remain abreast of your LinkedIn contacts in spite of your busy life. That way, you can stay invested in your professional relationships and keep doors open to future work opportunities.
• Initial reports about the Apple iPhone 6 suggested that the upcoming phone will feature a screen made of sapphire. The tech giant teamed with GT Advanced Technologies to produce display screens from the hard material, which is far stronger than the glass used on regular smartphones. But despite the physical advantages of sapphire, which would make the iPhone far more impervious to damage from drops and scratches, doubts emerged about the project's cost efficiency. The plan collapsed when GT – already teetering at the time of its deal with Apple – filed for bankruptcy despite getting $1 billion earmarked for the project.
• Disney unveiled Star Wars: Commander. The iOS game comes a year in advance of Episode VII, the 2015 installment of the iconic sci-fi franchise. With Commander, players are led through the events of Episodes IV through VI and given control over which side wins, the Empire or the Rebellion. Commander follows Tiny Death Star, another mobile game that Disney launched nine months earlier as part of its ongoing Star Wars merchandising.
• The Google Search app took multilingual usage to a new level in version 3.6. Whereas before you had to change settings in order to switch from English to French and back, now you can have up to five languages pre-set into a single account. Therefore, you can check the daily weather in English, search breaking news stories in Russian, find entertainment tidbits in Italian, and get cooking instructions in French.
• The LG G3 Vigor smartphone became available via AT&T. As a miniature version of the LG G3, Vigor sports a 5-inch, 720×1280 screen and runs on Android 4.4.2. With its 1.2 GHz Snapdragon 400 processor, the device carries 1GB of RAM, 8GB of space, and features a 1.3MP camera. Depending on whether you sign a contract with the carrier, the Vigor could cost you anywhere from $49.99 to $334.99.
• Apple launched the iPhone 6, which many predict will go down as one of the best cell phones of 2014. For U.S. users, the device is equipped with Apple Pay, a new mobile wallet that stores your Visa, MasterCard and American Express card for tap-and-pay usage at many of the nation's leading retailers, including Macy's and Walgreens. Powered by an M8 coprocessor, the iPhone 6 is the best-equipped Android for measuring elevation during fitness activities. The smartphone also features an 8MP camera with TrueTone flash and 240fps, Slo-Mo video capture capabilities.
• A new iOS voice app, Talko, was launched to bring a human element back into mobile communication. Conceived by Lotus Notes/Groove Networks developer Ray Ozzie, Talko blurs the line between phone calls and text messages. Users can record voice messages, via text, and send them to one or more recipients. Ozzie reasons that while talk remains the standard mode of communication, it's largely been eclipsed by texting. Talko hopes to redress the balance.
• Motorola, in partnership with Verizon Wireless, unveiled the Droid Turbo. Running on a Qualcomm Snapdragon 805 2.7GHz processor, the 5.2-inch device boasts a 21-megapixel camera with 4K video-recording capabilities. Droid Turbo, which runs on Android 4.4.4, is available in 32GB and 64GB versions, both of which contain 3GB of RAM. In most respects, the new device is an upgrade of Motorola's earlier Moto X.
• Samsung released the Galaxy Note 4, a 5.7-inch, Android 4.4.4 KitKat smartphone. With its 16-megapixel camera, the device can capture detail-rich, scenic snapshots in outdoor, daytime settings. Working with a super-sensitive stylus, the metal-rimmed device is optimized for handwriting and drawing. While considerably higher priced than other phablets, the Note 4 – undoubtedly one of the best new cell phones of 2014 – can be used on-contract for half-off in the U.S.
• MapQuest added roadside help to its iOS and Android app. In partnership with Urgent.ly, the popular online mapping service now provides help for smartphone users who get lost or stranded in commute. If a tire blows, your engine stalls or the tank runs out of gas on the freeway, you simply tap for roadside assistance on the MapQuest app and help will be on its way. Best of all, you only pay for the service upon completion, so there's no more need for costly AAA memberships that you might not even use.
• Samaritans Radar, a U.K.-based suicide-prevention app, was nixed over privacy concerns. People would sign up for the app over Twitter, where tweets from followers would then be monitored for signs of suicidal thoughts. If a user showed depressive signs, a link would be sent to followers urging them to seek help for that individual. But given the broad public scope of Twitter, many people concluded that Samaritans Radar threatened user privacy, and an online campaign to close the app drew 1,000 signatures in under two weeks.
• VSCO updated its photo-editing app for iPhones and Androids, and also adds iPad accessibility. With VSCO, users can compare filters on their smartphone and DSLR photos side-by-side for the best contrasts, colors, lights, darks and saturations. Other new VSCO features include image-text editing and social media tools, as well as syncing functionality for use across all of your Android and iOS devices.
• Runtastic unveiled Sleep Better, an app designed to monitor your sleeping patterns. To work the app, you simply start a "sleep session" and place your smartphone next to your pillow. From there, Sleep Better tracks the amount of time you spend asleep in light and heavy modes, and how long you spend lying in bed awake. It also includes an alarm that will only wake you during optimal (i.e. light sleep) periods. Sleep Better integrates with the iOS 8 Health app for an all-around health and fitness regimen.
• ENDUI app was released to test your capacity and reflexes while under the influence of alcohol. Federally funded out of Maryland, the app contains a set of games that test how you would perform in real-life situations while drunk. In one game, you press stop each time a car slows down or a pedestrian appears on your screen, and ENDUI measures your reflex time. The app can also gauge your height and weight against drink measurements to help determine your blood-alcohol level.
• Starbucks updated its iOS app for remote orders and pick-up. After three years of success with its in-store payment app, the Seattle-based coffee chain launched this new mobile service in Portland, Ore., with plans of a broader rollout in 2015. The app can track your whereabouts in relation to the nearest Starbucks location, along with the expected wait time. However, it won't let you set the preparation time, so it's best to get down to the Starbucks in question the moment you tap "Order."
• Dating app Hinge threatened to edge out Tinder with $12 million earmarked for overseas expansion. Working on iOS and Android devices, Hinge reaches far and wide across your Facebook grapevine for potential dating prospects. When a photo evaluation leads to a mutual interest between you and another user, the two of you can chat through the app. Unlike most dating apps, which focus primarily on age, Hinge links users according to more advanced compatibility factors, such as profession and alma mater.
For those who've stayed current with mobile developments, 2014 is closing out with features and capabilities that would have seemed unimaginable back in January. Time will tell whether 2015 will offer the same amount of surprises and innovations on the mobile front.
Upcoming Cell Phone Releases 2015
There are many innovative phones set for release in 2015, such as the Galaxy S6, the HTC One M9, the Sony Xperia Z4, the LG G4, the iPhone 7, and many more. As you anticipate the upcoming smartphone releases for 2015, remember that your old phone is still valuable even if you're ready to trade it in for something new.
Consider The Whiz Cells
As you can see, 2014 had some big changes in the mobile word and we don't expect that to slow down anytime soon! When it's time to buy the new phone in 2015 that you are looking for, don't forget to sell your old phone to The Whiz Cells !