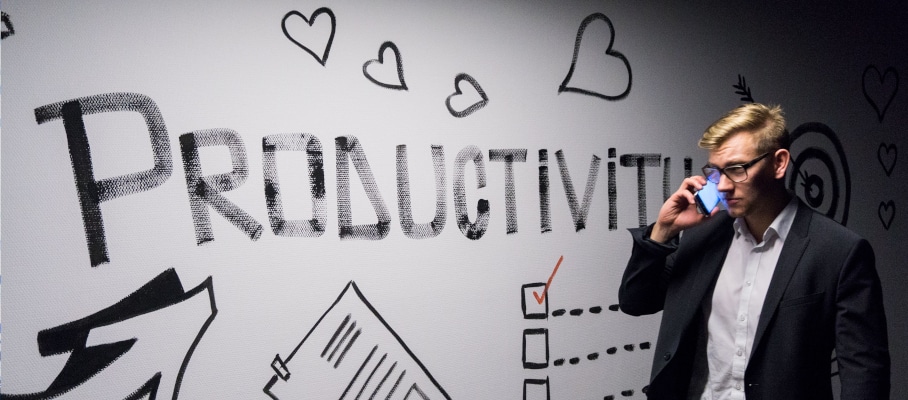 These days, smartphones are associated with distraction. According to the Journal of the Association for Consumer Research, even just having your phone nearby can be a distraction.
Luckily, it doesn't have to be this way. When used in specific ways, smartphones can actually help you be more productive. Smartphones possess several different restrictions, limits, and apps you can utilize to ensure you're getting the most out of your smartphone and your day.
How to Use Your Phone for Productivity 
If you're one of those people wondering how not to be distracted by your smartphone, you're not alone. Smartphones are notorious for their ability to house a large number of apps — many of which are running at the same time. With all the calendars, music players, navigation and messaging options, you may be wondering why your phone can be so useful and distracting at the same time.
It comes down to how you use these apps — and installing some new ones that help with time management — that make or break your productivity. Our ten hacks to turn your smartphone into a productivity tool include:
Use your smartphone for help with time management: 

RescueTime is an excellent app for time management. RescueTime sends reports of time spent on mobile apps, voice calls and internet browsing. Manage your time effectively by using the alert and goal settings on this app.

Get Siri to remember your relationship contacts:

 If you have an iPhone, you can teach Siri to match people with whom you have a relationship to their actual names. That way, when you can't remember your dentist's or boss's name, all you have to say is, "Siri, text my dentist," or "Siri, text my boss," and voila!

Use your smartphone for daily meditation: 

Download Calm or The Mindfulness App to increase your daily productivity levels. Setting aside three to 30 minutes a day can help you find relaxation amid your busy schedule.

Get your thoughts down with Google Keep:

 Google Keep allows you to take notes about what's on your mind quickly and will even remind you later. You can also record voice memos, attach pictures to your notes, and turn photos into text via optical character recognition.

Install visual voicemail:

 Install a visual voicemail app in the Google Play store for T-Mobile, AT&T, or Sprint on your iPhone. Viewing voicemails rather than dialing into them and listening can help you save time and stay on-task throughout the day.

Get into work mode with white noise:

 White noise apps are incredibly effective at masking background noise and helping you improve your focus as you work. Type in "white noise" in Spotify for all kinds of useful tracks.

Use the Do Not Disturb mode on your smartphone:

 Manually enable the Do Not Disturb mode on your iPhone by pulling down the Control Panel from the top right of the screen. Then, tap the quarter moon icon. Do Not Disturb modes can be found easily on Androids as well.

Enable "Speak Screen": 

Did you know you can get your phone to read aloud to you? Tap "General" in your settings app, "Accessibility," and then "Speech." Last, select "Speak Screen" and you should be good to go!

Delete the social media apps that take up the most time: 

Try deleting social media platforms from your smartphone to amp up your daily productivity. You can still use them — just on your computer. Imagine how much time you'll save when you're only checking social media through your desktop and not constantly swiping through these platforms on your phone!

Install Wunderlist:

 Wunderlist allows you to make as many lists as you want and store them in the cloud. This way, you can access all your lists from any device and at any time.
Stay Productive With a New Phone
If you're still wondering if smartphones can be productive, the answer is "yes," "yes" and "yes!" At The Whiz Cells, we want you to be productive, and sometimes that means selling your old phone and upgrading to a new one. We offer a method for cell phone users to dispose of their old phones in a way that's safe for the environment and provides some extra cash for your efforts.
We offer some of the most competitive prices for smartphones on the market. Everybody at The Whiz Cells prides themselves on offering high-quality products and services and delivering ridiculously fast payments.
If you want to know more about how to use your phone for optimal productivity, read more on our blog, or contact us today and one of our representatives will be more than happy to assist you. Or, sell your device to The Whiz Cells and receive free packaging and shipping.